Thorndon Orthodontics are your smile specialists located in the heart of Wellington's Thorndon precinct. A conveniently located Wellington orthodontist – we are just a short walk from school or work in the CBD.
Contact us today for your consultation.
Thorndon Orthodontics - Your One-Stop Wellington Orthodontics Destination
At Thorndon Orthodontics, we offer a complete range of specialist orthodontic services based on evidence-based best practice. Our treatment approach is personalised for patients of all ages, as no two patients are the same .
Divya along with her experienced and friendly team at Thorndon Orthodontics strive to provide the best standard of orthodontic care to our patients. Deciding on orthodontic treatment for yourself or your child can be a big decision – we pride ourselves in our attention to detail and clear communication so you always know what's going on. We are proud to be considered one of the best orthodontists Wellington has to offer by our lovely and happy patients.
Our beautiful practice in Thorndon harbour and hillside views to enjoy during your appointment and our team will make you comfortable and put you at ease. A smile says a lot about a person and we are passionate about creating beautiful smiles that help radiate confidence. We have a lot of fun doing it! From your first phone call, email and appointment, we will do our best to make you feel welcome, comfortable and informed.
If you're looking to fix your, or your child's crooked teeth braces or aligners might be the solution you need. Whether you are looking for a Wellington braces or clear aligner specialist, we can help. Thorndon Orthodontics is Wellington's leading specialist Spark clear aligner provider, and also offers a full range of orthodontic care with braces – from simple to the complex cases.
We also appreciate the importance of retainers following orthodontic treatment and can repair or replace retainers, including for patients treated elsewhere.
Contact us to begin your orthodontic journey.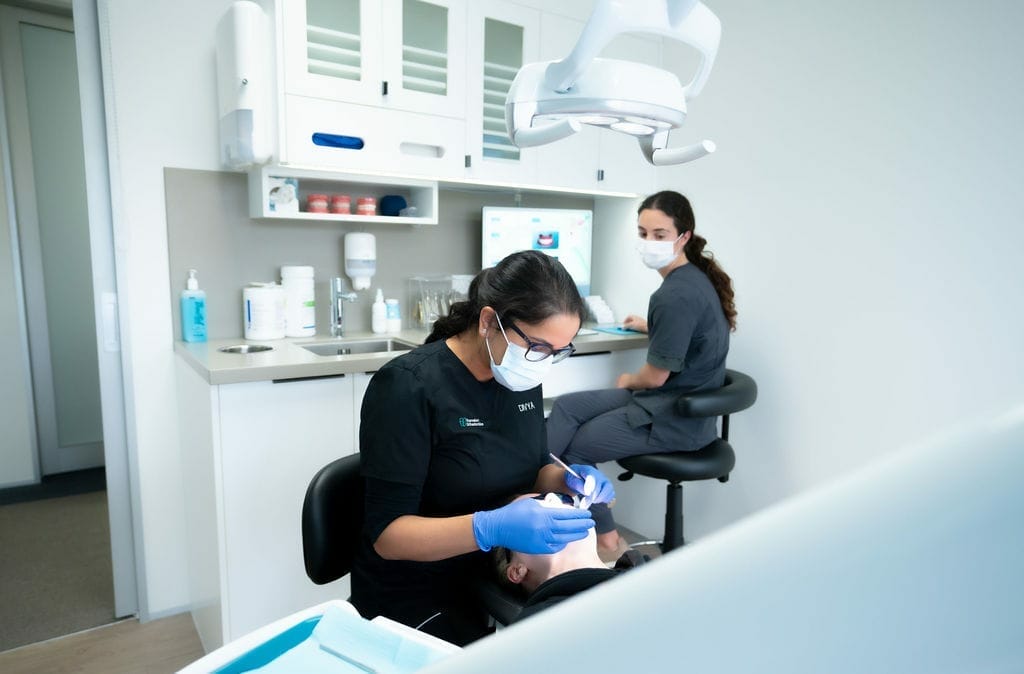 Frequently Asked Questions
Why should I choose Thorndon Orthodontics as my Wellington orthodontist?

Orthodontic treatment is a journey and it is important to choose an orthodontist you feel comfortable with. Our friendly and experienced team will make you feel welcome and put you at ease. Providing a great experience for our patients is at the forefront of our practice.

Because orthodontic treatment requires regular appointments to check on and adjust the braces/aligners, our patients love our appointment availability and convenient location – a very short walk from schools, the train station and bus stop – meaning minimal time missed from school and work to attend orthodontic appointments.
What services do you offer at Thorndon Orthodontics?

We provide a full range of specialist orthodontic services, including braces, Spark and Invisalign, and much more. Our specialist orthodontist Wellington team will guide you in choosing the most suitable treatment based on your unique needs.
I'm nervous about getting braces. How can you help?

It's not uncommon to feel apprehensive about getting braces. You can rest assured that we are your Wellington braces specialists – we are committed to making your experience as comfortable as possible. We take the time to discuss every step of the treatment process with you, ensuring you are fully informed and confident in your care plan.
How can I schedule an appointment with Thorndon Orthodontics?

To schedule an appointment with us, simply give us a call or email us. We look forward to welcoming you to our practice and giving you the smile you've always wanted. When it comes to your specialist orthodontic needs, experience the Thorndon Orthodontics difference.