Chocolate or vanilla, the forest or the beach, surfing or sailing?
It's great to have options, but important to understand the options you're presented with. 
Here are a couple more options – a Wellington orthodontist or a dentist? And what's the difference?
You know that dentists and orthodontists both work with teeth and improve oral health but they do it in different ways. 
Let's start off by discussing our similarities. 
Similarities Between Your Wellington Orthodontist and Dentist
Both dentists and orthodontists have studied general dentistry and are experts in oral health care. A dental degree trains us to diagnose and treat conditions of the teeth, gums, tongue and mouth.
Specialist orthodontists are dentists first and then undertake a further three years of postgraduate education. While all orthodontists are dentists, not all dentists are orthodontists. 
Orthodontists are adept at diagnosing and treating misalignments of your teeth and jaws. 
Differences Between Orthodontists and Dentists
Dentists and orthodontists are more similar than we are different but there are a few differences worth noting.
Education
Both dentists and orthodontists have completed a 5-year-long Bachelor of Dental Surgery (or equivalent). Orthodontists in New Zealand must have at least two years of experience working in general practice before applying to specialise.
There's only one orthodontic specialist training programme in New Zealand at the University of Otago – and only 3 – 5 dentists get in each year. To specialise takes a further three years of full-time study, on top of the 5 years to become a dentist! During this time, they learn from some of the best orthodontists in the country and from around the world, and are exposed to a diverse range of philosophies and techniques.
The specialist course is intensive and postgraduates clock about close to 10,000 hours of specialist training before they graduate as an orthodontist. After becoming a specialist, orthodontists continue to attend local and international conferences and meetings to keep up to date with the latest advances in the field.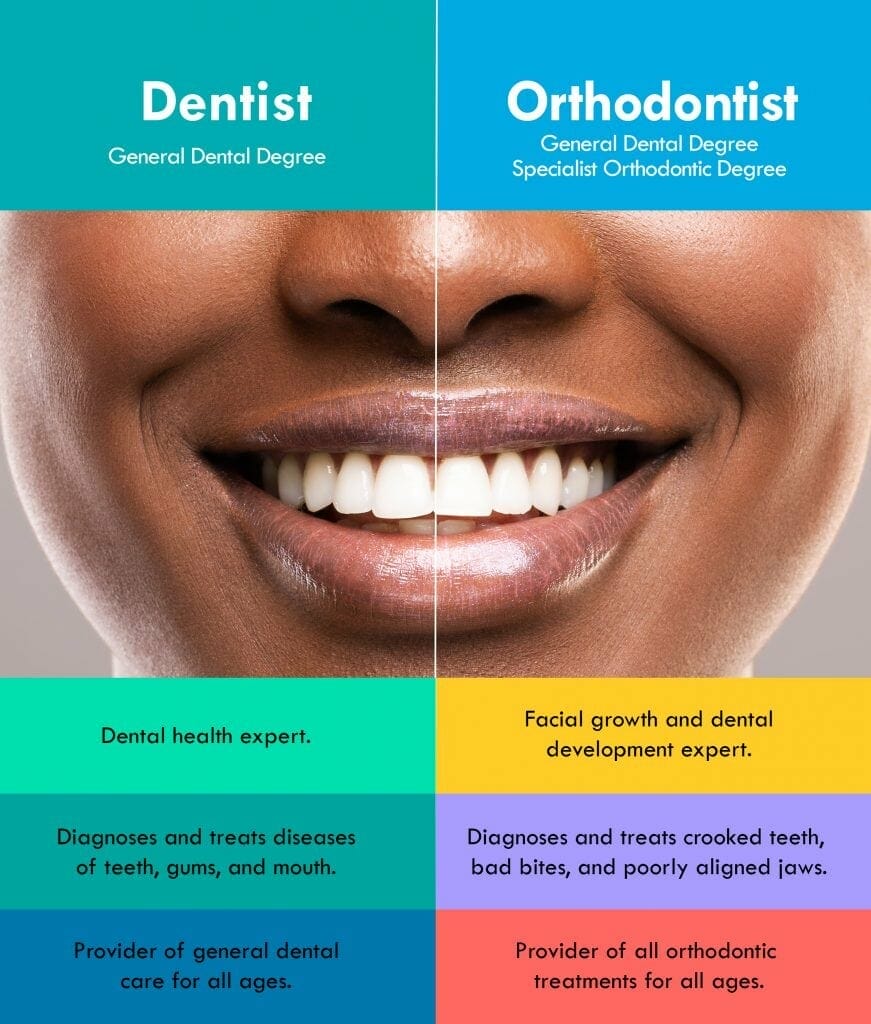 What We Do
Let's first take a look at dentists. 
Dentists are primarily concerned with the health of a patient's mouth – primarily, their teeth and gums. Typically they provide the following services:
Fill cavities

Extract teeth

Repair cracked teeth (crowns, etc)

Root canals

Cosmetic work (veneers, whitening, etc)

Replacing missing teeth (implants, dentures)

Review x-rays and diagnose certain conditions
Some dentists might offer treatment for simple to moderate orthodontic problems – this is usually Fast Braces or Invisalign. 
Orthodontists are trained to prevent, diagnose, and address teeth and jaw irregularities for all ages and severities. This is all we do every day and we do it well!
Our speciality lies in addressing the following problems:
Crooked, crowded, missing or irregular teeth

Bite problems such as an overbite, or underbite

Jaw misalignment including those which require surgical input 
So Should You See A Wellington Orthodontist?
It's not always easy to know who you should call. 
The good thing is that dentists and orthodontists often work in tandem. Should you see a dentist seeking a service more suited for an orthodontist, often they'll recommend you to an orthodontist in your area. And if you present to the orthodontist with a problem that might be addressed without orthodontic treatment, your orthodontist will refer you to a dentist.
While you might see your family dentist to check the health of teeth and gums, treatment of decay, a vast range of restorative services, oral surgery, etc; you would likely contact an orthodontist if you notice you (or your child) have crooked teeth, gaps or missing teeth, malaligned or disproportionate jaws. 
If you are unhappy with the way your teeth look or bite, you might get in touch with us at Thorndon Orthodontics so we can nudge the teeth in the right direction!
At Thordon Orthodontists we offer a host of services including:
Braces fitting

Aligners (Invisalign and Spark)

Tooth straightening

Retainer wires

Removable retainers

Space maintainers

Jaw expansion

Removable plates

Early treatment 

Orthodontic treatment in combination with jaw surgery

Many other treatments

Early Treatment
Quite often we only think to see an oral professional when there's a problem. 
Despite our ability as an orthodontist to correct issues, what we love most is trying to prevent or reduce these issues occuring. This is why having children seen before the age of 10 years old is highly recommended, so major oral problems don't come back to bite you down the road! 
This is because many potential oral problems can be detected at a young age, and if treated properly avoided. This proactive approach can mitigate the need for expensive treatment later on. 
So what can an orthodontist detect in a young patient?
Crowding

Tooth wear

Jaw alignment

Improper bite

Trauma

Bad habits (thumb sucking, etc)
After this initial appointment, we will advise you on how often your child should visit the orthodontist – this is usually every 9-18 months until all the adult teeth have come through. 
What To Expect From Your Wellington Orthodontists
High-quality treatment delivered by friendly, experienced and professional specialists and if you're coming to Thordon Orthodontics, a brand new state-of-the-art office, beautiful views of the Wellington hills and harbour and our warm and welcoming team. 
During your first visit to an orthodontist, you can expect an oral exam, dental x-ray(s), and an explanation about any orthodontic problems and options, costs and duration to address them. 
Next Steps
Now that know what distinguishes a Wellington orthodontist from a dentist, contact us to book an initial appointment at Thorndon Orthodontics.