Teeth Straightening Services at Thorndon Orthodontics
Looking for a teeth straightening Wellington provider?
Well, your search ends with Thorndon Orthodontics. We are dedicated to helping you achieve a perfectly aligned smile with our comprehensive teeth straightening services.
Why Choose Us for Teeth Straightening
Choosing us for teeth straightening means you're entrusting your smile to skilled and experienced orthodontic professionals. We leverage the latest technology and innovative techniques to straighten teeth, providing you with the smile you've always dreamed of.
Personalised Teeth Straightening Consultation
Every journey to a straight smile begins with a personalised consultation. We listen to your concerns and aspirations, examine your oral health, and devise a tailored treatment plan to straighten your teeth effectively.
Innovative Braces Solutions
As a part of our teeth straightening services, we offer a range of braces solutions. Traditional braces, ceramic braces, or self-ligating braces; our expert team will help you determine the most suitable solution to straighten your teeth effectively and efficiently.
Invisalign – The Invisible Way to Straighten Teeth
As an alternative to traditionalbraces, we offer Invisalign treatment. This modern, almost invisible method can straighten teeth without the need for wires or brackets. This option is particularly popular with adults and teens who want to straighten their teeth discreetly.
Aftercare and Retainers
Our care for your smile extends beyond the treatment period. After your teeth have been straightened, we provide custom-designed retainers to ensure they stay in their new position, preserving the results of your teeth straightening journey.
Experience the Thorndon Orthodontics Difference
When you choose Thorndon Orthodontics as your teeth straightening specialists in Wellington, you're choosing a team committed to your satisfaction. Our goal is to provide you with a confident, radiant smile that enhances your self-esteem and quality of life.
Reach out to us today to start your journey to straighten your teeth. Let us transform your smile and boost your confidence with our exceptional teeth straightening services. Your dream smile awaits you at Thorndon Orthodontics.
Teeth Whitening Services at Thorndon Orthodontics
A bright, white smile is a symbol of health, youth, and confidence. At Thorndon Orthodontics, we can guide you on not only achieving a beautiful straight smile, but also a bright white smile! We offer tooth whitening trays and can recommend whitening solutions to match your needs. Whitening is recommended, if needed, following orthodontic treatment once teeth have been moved into their final and straightened position.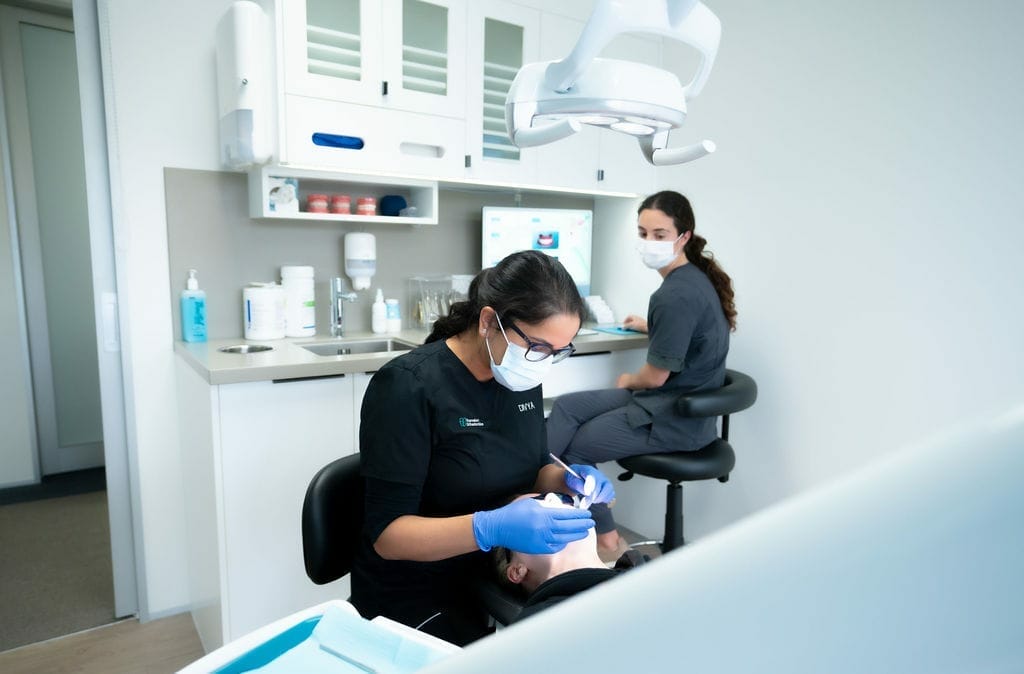 Safe and Effective Teeth Whitening Solutions
To ensure patient comfort and safety, we use in-house whitening methods to whiten your teeth over several days. This technique has been proven to be safe and effective. Our trays and whitening solutions deliver beautiful results while minimizing sensitivity and discomfort.
Long-Lasting Results
Our teeth whitening procedures are about stable tooth whitening, the results of which you can enjoy for months. We also offer advice on maintaining your new, brighter smile, including tips on foods and drinks to avoid and how best to take care of your whitened teeth.
Teeth Whitening Aftercare
Our commitment to your oral health extends beyond your visit to our clinic. Once your whitening treatment is complete, our team provides aftercare instructions to help maintain the longevity of your results. We'll guide you on best oral hygiene practices and recommend safe, effective products to keep your smile bright and beautiful.
Comfortable and Welcoming Environment
At Thorndon Orthodontics, we believe that your comfort is paramount. Our team ensures a welcoming and relaxing environment, making your teeth whitening experience enjoyable from the moment you step into our clinic.
Teeth Straightening - Frequently Asked Questions
How long does the teeth straightening process take at Thorndon Orthodontics?

The duration of the teeth straightening process varies from patient to patient, depending on the complexity of the case and the type of treatment chosen. On average, the process can take anywhere from a few months to a couple of years. During your consultation, our team will provide an estimated timeline for your specific case.
Does teeth straightening hurt?

While you may experience some discomfort during the initial adjustment period or after certain adjustments, teeth straightening shouldn"t be a painful process. At Thorndon Orthodontics, we take great care to ensure the process to straighten your teeth is as comfortable as possible, providing solutions to manage any discomfort you might experience.
Can adults benefit from teeth straightening services at Thorndon Orthodontics?

Absolutely! It"s never too late to straighten teeth and achieve the smile of your dreams. We offer teeth straightening solutions suitable for patients of all ages, including traditional braces and Invisalign, which is a popular choice among our adult patients due to its discreet nature.
What aftercare is needed post teeth straightening treatment?

After your teeth have been successfullystraightened, it"s important to wear a retainer as directed. This helps to maintain the new position of your teeth and prevent them from shifting back. Our team will provide you with a custom-made retainer and detailed instructions on how to care for it and when to wear it. Regular check-ups are also essential to ensure your smile stays healthy and beautiful.
Take the First Step Towards a Brighter Smile
Experience the transformative power of a brighter smile with Thorndon Orthodontics. A radiant, confidence-boosting smile is just a phone call away. Contact us today to start achieving the smile of your dreams. With Thorndon Orthodontics, a straighter and brightersmile is well within your reach.